After 10 years of great events in the Home Counties we are really excited to be taking the Reggae Festival to the UK's spiritual home, to a mystical land engulfed in folk law, myths and legends. A place where the biggest and best Festival on Earth started "The Glastonbury Festival" 
We have always thought Reggae is so under represented at Glastonbury so we have literally taken Reggae to Glastonbury - With Glastonbury taking a year off in 2018 we thought the area needed some blessed up reggae vibes where we will introduce Reggae and Reggae Culture to a much larger audience –
This years wonderful presentation includes x 4 Nights Camping, a Rasta Village, increased toilet and pamper facilities, increased children's and circus activities, more Healers in our dedicated Field of Love, a more relaxed laid back vibe even more spread out arenas a Stone Circle and with more emphasis on Nature and Peace. We are going back to the root of all festivals; a camping weekend festival dedicated to a better world – artist announcements will be made periodically 
August 31st 2018 - 2nd September 2018
Click here to enter a Rafflecopter giveaway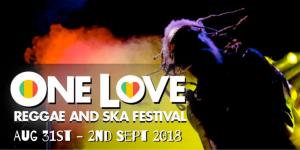 www.onelovefestival.co.uk
Gilcombe Farm, Bruton (Nr Glastonbury), Somerset, BA10 0QE
RASTA VILLAGE
IQulah Rastafari Giddeon Family presents Rasta Village in association with the Rasatafari Andahnet Center (St Ann, Jamaica) and the Ethiopian World Federation.
Hosted by Iqulah Rastafari –  Iqulah is the president of EWF Charter 17 in his home of St. Ann, Jamaica and has been a International Chaplin for the last 3yrs
Rastafari is rightly associated with Jamaica for defending Emperor Haile Selassie the First. The island of Jamaica gave birth to the movement in the 1930s. Rastafari is an Abrahamic faith that adheres to much of The Bible, though Rastafaris worship Haile Selassie I, former emperor of Ethiopia.
Rastafari culture rejects many of the conditions of modern society they consider degenerate, including materialism, oppression and sensual pleasures. They refer to this corrupt version of society as "Babylon," which is directly opposite of "Zion," the promised land, often considered Ethiopia.
While many Rastas choose not to cut their hair, and wear dreadlocks, it is not an absolute for believers.
Rasta Village will be highlighting the way of life of the Rastafari movement. The Ethiopian World Federation will present a workshop on the works and times of HIM Haile Selassie 1st, the early rise of the Ras Tafari and the Ethiopian movements.
As you approach you'll hear the traditional Nyabinghi drumming and chanting getting louder and the natural smell of the wood fire pit and Herb and Spice Garden
In the Village you'll be surrounded by the Rastafarian life in motion and will see the principles of living in harmony with nature and the role of Haile Selassie I.
You have opportunity to witness food preparation through the Ital village kitchen, showing the vegetables, herbs and spices used in Rastafarian cooking, showing the nutritional and culinary importance of each ingredient
Including:
Drumming Work Shops
Ital Food Caterers
Craft Work Shops
Home Made Gifts
Chanting and Dance Work Shops
Meditation
Food
A herb library where your guide will explain the medicinal properties of the many herbs grown there and, in some cases, those which scientists are beginning to investigate for their use in scientific remedies.
A meditative temple where you can engage in your own private contemplation.
Throughout the proceedings there is a traditional drum and chanting session in the centre of the village. With Herbal tea and fresh fruit available to purchase whilst you listen or even join the join the drummers at the end of the session.
Traditional jewellery, clothing and herbal remedies are made and sold in the village.
BRINGING REGGAE AND THE MESSAGE OF BOB MARLEY TO THE PEOPLE!