Creating illuminated Christmas trails for all the family - Five festive trails across the UK
 
Leading events promoter, Raymond Gubbay Limited, a division of Sony Music, is delighted to announce 2019 dates for the UK's biggest ever series of illuminated festive trails. 
 
Creating stunning seasonal experiences that magically transform heritage landscapes has become a speciality for Raymond Gubbay Ltd, who work with venue partners and event producers Culture Creative to realise magical winter wonderlands.
 
With five trails set to be unveiled at historic and iconic venues across the country, there's never been a better opportunity to experience these immersive outdoor Christmas events.
 
Designed for visitors of all ages to enjoy, the trails provide a unique way to celebrate the festive season with an unmissable outdoor experience.
 
BLENHEIM PALACE 
22 NOVEMBER TO 5 JANUARY
The Oxfordshire UNESCO World Heritage Site will be transformed, both inside and out, as part of its biggest ever Christmas celebrations. With the enchanting new daytime Alice in the Palace experience taking over the Palace State Rooms and a bigger and even more ambitious Christmas light trail illuminating the 'Capability' Brown-landscaped Parkland in the evening; visitors can expect an incredible festive experience that is rapidly becoming a must-see Christmas tradition.
New for 2019 Alice in the Palace - the State Rooms of Britain's Greatest Palace will be transformed into the magical world of Alice in Wonderland. Inspired by Lewis Carroll's classic tale, visitors will step between the pages of a larger-than-life story book and into their very own festive family adventure.
The illuminated trail returns from 22 November – 1 January  transforming England's finest view with a bigger, brighter and more spectacular evening trail than ever before featuring a new multi-coloured aerial light show filling the sky with dancing bands of colour, a dynamic waterfall, and the softly-glowing flowers of the Snowdrop Walk.
 
In another mirroring of nature, Australian studio Mandylights returns to Christmas at Blenheim Palace with Vines.  A 30-metre long promenade of LED vines that visitors can walk through, touch and interact with, each vine houses up to 8,000 individual colour-changing pixels, making for an otherworldly immersive experience.
Blenheim Palace, Woodstock, Oxfordshire, OX20 1PP
blenheimpalace.com/christmas   #christmasatblenheimpalace 
 
NEW FOR 2019 – BELTON HOUSE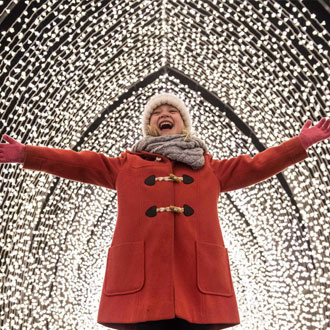 28 NOVEMBER – 30 DECEMBER
Discover the stunning new Christmas light trail at Belton House in Lincolnshire amidst the natural glory of pleasure gardens and an ancient deer park.
 
This perfect example of an English country-house estate will be transformed into a magical outdoor festive trail with the historic tree canopies drenched in seasonal colour and dripping with shards of light, frosty snowflakes, stars and baubles. 
Belton House, Grantham, Lincolnshire, NG32 2LS 
nationaltrust.org.uk/belton-house   #christmasatbelton
 
NEW FOR 2019 – STOURHEAD
29 NOVEMBER – 30 DECEMBER
The beautiful National Trust gardens at Stourhead, Wiltshire will be hosting its very own  magical illuminated Christmas Trail for the first time.
 
Described as 'a living work of art', visitors to the world-famous landscaped gardens will be able to walk through a Tunnel of Light festooned by over 100,000 pea-lights, beside twinkling hedgerows which lead towards thousands of illuminated lights on the Fibre Optic Lawn.
 
Stourhead's magnificent lake, reflecting classical temples, mystical grottoes, and rare and exotic trees, will provide the centrepiece for this immersive Christmas experience.
Stourhead, Mere, Wiltshire, BA12 6QD
nationaltrust.org.uk/stourhead… #christmasatstourhead
 
DUNHAM MASSEY
22 NOVEMBER – 30 DECEMBER
Christmas at Dunham Massey returns to the historic National Trust property in Cheshire where visitors will be greeted by incredible illuminations, including a grand avenue replanted with gigantic flowers, a dynamic, glowing Vortex Tunnel and the mesmerising reflections made by Fire on Water.  Spot the larger-than-life glittering deer, take in the Field of Light and discover the woodland world festooned with seasonal cheer.
 
The picturesque courtyard will be filled with festive food outlets as well as a vintage carousel*. Visitors can wander beneath the night sky with spiced cider, mulled wine or hot chocolate whilst the aroma of roasting chestnuts fills the air. 
Dunham Massey, Altrincham, Cheshire. WA14 4SJ
nationaltrust.org.uk/dunham-massey   #christmasatdunham
 
BEDGEBURY NATIONAL PINETUM AND FOREST
22 NOVEMBER – 30 DECEMBER
This family-friendly festive trail in the heart of Kent features a dynamic Vortex Tunnel, dancing fountains and shimmering reflections that cast light into hidden places. From stunning trees awash with colour to glistening lakes and musical Christmas classics Christmas at Bedgebury is full of seasonal surprises.
 
Visitors can toast marshmallows at one of the fire pits, enjoy traditional Victorian fairground rides*, and spy Father Christmas and his elves amongst the trees along the way.
Bedgebury National Pinetum & Forest, Kent  
christmasatbedgebury.co.uk   #christmasatbedgebury
 
 
The Festive Trails are open on selected dates. For further information, pricing and booking please visit: mychristmastrails.co.uk