Spring has sprung! With an unseasonably warm February flowers are blooming and leaves are sprouting earlier than ever before, making it the perfect time to get outside and explore the gardens of the UK. Discover these green spaces with Treasure Trails when spring officially begins on 20th March.
Admire the budding bluebells and daffodils in over 1,200 locations across the UK with Treasure Trails. Your family and friends can take on a Murder Mystery, Treasure Hunt or Spy Mission Trail whilst exploring hometowns or cities, towns and villages further afield.
Treasure Trail booklets are priced at just £6.99 (plus P&P if required), are suitable for up to 5 people and designed to appeal to anyone with a sense of adventure. These self-guided Trails are the perfect way to get outside and celebrate the new season.
Lasting around two hours, the aim is to solve clues on a circular route of approximately two miles incorporating plaques, signs, statues, monuments, images, engravings or any other unique or eye-catching features.
We've gathered 10 Trails across the UK, which are best, experienced during springtime where the surrounding nature is blossoming into life:
1.     Southampton Gardens Treasure Hunt Trail
Follow the clues and discover the treasure on this Trail leading through the tranquil inner city gardens where Trailers can admire the rose gardens, sculptures and water fountains full of history.
2.     Southport Gardens Park & Pier Murder Mystery Trail
Discover whodunit on this Murder Mystery Trail exploring the traditional Victorian seaside resort through the Botanic Gardens and Hesketh Park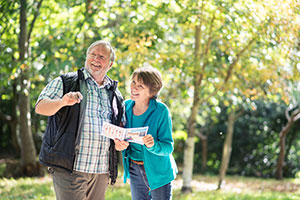 of Southport before visiting the UK's oldest iron pier.
3.     Leeds Roundhay Park  Spy Mission Trail
Wannabe double agents will need to work swiftly on this Spy Mission Trail exploring the popular Roundhay Park. With it's enclosed gardens and wide open spaces you'll journey from lakesides to woodlands and from a ravine to a castle.
4.     Minterne Gardens In Springtime Treasure Hunt Trail
These gardens are home to some of the rarest plants in the world and are a must for garden lovers in the changing seasons.
5.     Royal Parks Of London Murder Mystery Trail
Participants will need to put on their detective hats to solve the clues on this route through Hyde Park and Kensington Gardens. Starting at Hyde Park Corner trailers can admire the old oaks and newly hatched residents of the Serpentine and surrounding ponds.
6.     Preston Parks and Gardens Spy Mission Trail
Calling all super spies! An evil genius intent on ruling Preston's beautiful parks needs to be stopped. You'll uncover clues through the garden of Winckley Square, visit Avenham and Millar Parks and explore the River Ribble on this mission.
7.     Belfast Botanic Treasure Hunt Trail
Perfect to visit during spring this Treasure Hunt Trail weaves through the Botanic Gardens and the Botanic Palm House before leading trailers to soak up the lively Belfast University area.
8.     Dorchester Gardens & Old Fordington Murder Mystery Trail
Beginning in the centre of Dorchester families will need to work together to solve the clues on this Murder Mystery Trail along the avenue of trees at South Walks before finding yourself in the peaceful Borough Gardens.
9.     York Museum Gardens Treasure Hunt Trail
Follow clues along the lively shopping streets and through the beautiful Museum Gardens as you find the location of the buried treasure on this Treasure Hunt Trail.
10.  Heartlands Murder Mystery Trail
This intriguing Trail begins in the heart of Cornwall's historic mining industry where you'll discover the secrets of the mines and surrounding green spaces. Solve sneaky clues to discover the suspects and eliminate whodunit.
What: Spring Into Action With Treasure Trails
Why Try a Treasure Trail: A fantastic way for families and groups to explore towns, cities and villages across the UK with a self-guided themed walks this springtime.
Price: Treasure Trails cost £6.99 (plus P&P if required)
Website: treasuretrails.co.uk