This Valentine's Day, love birds can enjoy a visit to the birthplace of one of the most romantic pieces of literature of all time, Romeo and Juliet, and explore Shakespeare's Stratford-upon-Avon on a three-day tour with Rabbie's (www.rabbies.com). 
William Shakespeare penned many of the all-time great relationships, explore the Bard's hometown where he was inspired to write his many romantic classics including Romeo and Juliet and Much Ado About Nothing. Visit Anne Hathaway's cottage, his wife's beautiful thatched, timber-framed home, and head to Holy Trinity Church, his final resting place, to pay your respects. 
The tour also includes visit to some of the UK's most beautiful cities and towns in the Cotswolds and Oxfordshire. Visitors are forgiven for thinking they've entered a period drama with a wander around Bampton, popular for doubling as some of the iconic Downton Abbey locations. 
The three-day tour departs from London, Victoria, once a week, with a departure on 12 February 2019. Rabbie's three-day Shakespeare's England, Warwick Castle & the Cotswolds tour costs from £139 per person, excluding entry fees to visitor attractions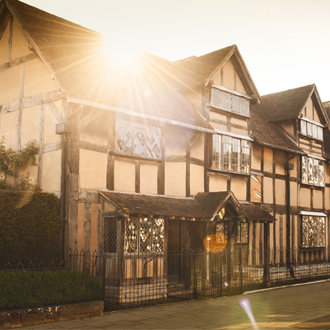 and tour accommodation.
Rabbie's also offer one-off bespoke itineraries and experiences. Each private and personalised tour has a dedicated guide, an expert in storytelling, local insights and historic tales. Passengers benefit from Rabbie's expertise in exploring the UK and Ireland, advising guests on where to stay and what to see.
Rabbie's offers a wide range of trips from London, Edinburgh, Glasgow, Inverness, Manchester, Aberdeen and Dublin. With a friendly team of over 170, Rabbie's ethical small group tours take guests off the beaten track and onto the back roads where other tours can't go. Touring with friendly and experienced driver-guides, and no more than 16 passengers means passengers get more personal attention, a chance to meet the locals, extended time off the bus, more adventures down the back-roads, and more freedom to make their trip their own.
To find more about the tours Rabbie's have to offer, visit: www.rabbies.com.