Enjoy a skippered sail in a beautiful 1930s sailing yacht on the Norfolk Broads this season.  Here at Hunter's Yard we not only offer boats for hire to sailors, but we can provide non-sailors with a wonderful experience on the Broads too.  Up to four people can enjoy a skippered sail starting at £79 for a 2 hour sail (that's for the boat, not per person) where you can either sit back and let the Skipper take the helm, or you can help out as much or as little as you like.  Your skipper will gladly 'teach you the ropes' if you're keen to learn.  Longer sails are available too.
The Hunter Fleet consists of 14 cabin yachts and 7 half deckers, all available to hire for holidays, short breaks and day sails on the magical waterways known as the Norfolk Broads, not only a wonderful place for sailing, but a fabulous place to spot all kinds of wildlife too.   You may hear the boom of the Bittern, spot a Heron patiently waiting to spy a fish to catch, or glimpse the bright blue flash of a Kingfisher.  The Norfolk Broads is one of the few places in the UK where you can see Cranes in the wild too.  As well as the wildlife, there are many other interesting places to visit while you're here too.  The impressive and newly refurbished Horsey Windpump, the seal colony at Horsey Beach, How Hill House and gardens, and St Benet's Abbey – the remains of a Benedictine Monastery.  There are many many more places for you to explore on your Norfolk Broads adventure!
If you are interested in learning to sail, why not book one of our Learn to Sail Holidays?  Ideal for families, friends, groups, and work colleagues. For the first 5 days of your holiday, you will have a skipper with you during the day times.  Then for the final two days you will have the option to sail unassisted or continue to have help from your skipper.  And, subject to passing of course, at the end of your holiday you will also have gained your Combined RYA level 1 & 2 qualification for which you will receive certificates, meaning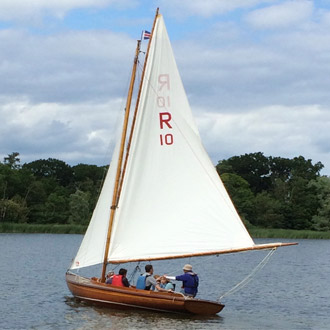 you can sail by yourself thereafter.  
We are an RYA Training centre and offer a range of RYA Training courses as well as individual instruction.  We also offer our own non-RYA Cabin Conversion course for those wanting to convert from half decker sailing to handling a larger, heavier yacht.
For schools and organised youth groups we offer a 30% discount on sailing to encourage outdoor learning.  We believe the education youngsters can get from working with 'Mother Nature' and each other can be a life changing experience and the learn discipline, tolerance, team work, and understanding as well as it helping them learn to take responsibility for self and others, problem solve, and increase their self-confidence.
So whether you are an experienced sailor, someone who would love to learn to sail, or who would simply love to sit back and enjoy the experience, come along and enjoy the beautiful Broads on some of the oldest traditional sailing yachts on the Norfolk Broads today.
For more information visit our website www.huntersyard.co.uk