People looking for a dog friendly holiday this year can now take their pets with them for free if they book a 2019 holiday at one of nine UK holiday parks owned/managed by Bridge Leisure. 
The 'Pets go Free' campaign was launched today and applies to all holiday dates from now until the end of the season, as long as the booking is made by the 2ndJuly. The offer is for a maximum of 2 pets staying in pet friendly accommodation or touring pitches.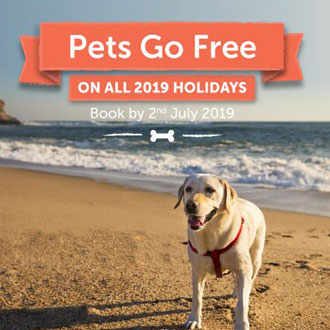 All doggy guests will receive a welcome pack which includes dog basket, food and water bowls, treats and poop bags. 
The parks include in the campaign are Bowland Fell and Sand le Mere in Yorkshire, Ashbourne Heights in the Peak District, Seaview Holiday Village, Trevella Park and Hengar Manor in Cornwall, Turnberry and Silver Sands in Scotland and Sherwood Hideaway in Nottinghamshire. Bridge Leisure also has Hedley Wood in Devon where 'Pets go free' all year round 
CEO of Bridge Leisure Andrew Howe said: "More and more people who want to take their dogs on holiday with them and not have to compromise on the level of accommodation they can book. Our parks offer a range of pet friendly accommodation including some with hot tubs. They all offer different holiday experiences, but they all cater for pets in various ways, with some parks offering on site grooming facilities, some offering on site dog walks and at Seaview in Cornwall we even have a dog bar and drinks menu.
"Taking pets on holiday is normally an additional charge, so we wanted to give people the chance to enjoy a holiday at one of our parks without worrying about the cost for the rest of 2019 and we can promise they will be given the same warm welcome at our parks as our guests."
Bookable your Pets go Free holiday online today at your preferred park website.