The unveiling of the brand new Wigwam® Lodge has been the highlight of the summer for Wigwam® Holidays!
The nationwide glamping accommodation provider, which has helped spearhead the glamping revolution since 1989, has a range of heated, insulated cabins and the Wigwam® Lodge is the latest addition to their portfolio. With the glamping staycation market continuing to boom in the UK, the Wigwam® Lodge is the largest cabin produced by the Edinburgh-based company, accommodating up to a family of six. 
The new cabin includes a statement side entrance including French doors, a large shower room with toilet and washbasin, sleeping arrangements for up to six people, a well-equipped kitchen including a fitted oven and hob, fridge and microwave and a flat screen TV in the lounge area.
Charles Gulland, Managing Director of Wigwam® Holidays, said: "We are very proud of this, the latest innovation from the Wigwam® Team. 
"We unveiled this brand new cabin at the Royal Highland, Great Yorkshire and Royal Welsh Shows and it really had the wow factor with everyone that saw it.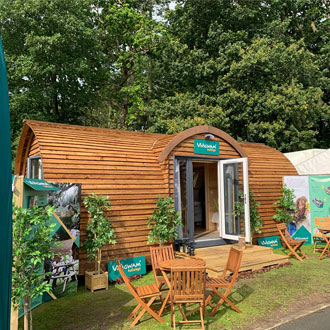 "A selection of our 85 sites nationwide are now taking delivery of the Wigwam® Lodge ready for the later summer and autumn/winter season." 
This year Wigwam® Holidays, which has been operating a successful Franchise business model since 2014, has seen its number of glamping sites swell with brand new Franchises opening in Scotland, Wales, Lancashire, the Midlands and with two more sites set to open in the autumn in Yorkshire and Suffolk.
The Franchise model offers landowners and farmers alike a 'business in a box', supplying the handcrafted cabins, marketing collateral, website, PR support and booking system along with an Operations Manual for site owners. The sites are all in stunning locations across the British Isles, from remote islands to a peaceful forest, and from sun-kissed Cornish beaches to private estates.
The Wigwam® Holidays brand attends key shows throughout the year with the next event being the Glamping Show in September.