Research by London's leading serviced apartment provided, Cuckooz, has looked at the cost of staying in the capital and how this differs when you opt for a hotel near one of the city's most famous landmarks.
Cuckooz looked at the top 10 must-see attractions in London before taking the average cost of hotels based on their proximity to each landmark. 
The research shows that on average, hotels surrounding these must-see areas command a daily room rate of £240! That's 63% higher than the London average of £147. 
The most expensive was the National Gallery in Trafalgar Square, with a daily room rate of £356.
Buckingham Palace ranked second at £348 while staying around the London Eye would set you back £280.
Big Ben (£265), Westminster Abbey (£256), the Science Museum in South Kensington (£247), the Tower of London (£243), the Natural History Museum (£239), also in South Kensington, the Royal Albert Hall (£237) and the Shard (£205) all ranked within the top 10 most expensive for hotel costs around London's must-see sights.
The National Maritime Museum in Greenwich was the most affordable, but at £158 a night it's still above the London average of £147. 
Cuckooz offers beautifully designed, serviced apartment accommodation across five vibrant London neighbourhoods, Aldgate East, Bloomsbury, the City of London, King's Cross and Shoreditch.
With average room rate of just £145 per day, it's not only cheaper than a London hotel room but offers far more for your money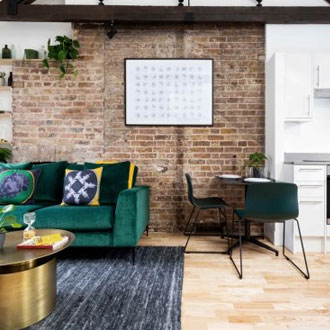 providing a real home away from home.
Co-founder of Cuckooz, Fabienne O'Neill, commented:
"London is one of, if not, the best city in the world but the cost of staying in the capital can be very high indeed. As this research shows, planning your stay in around the city's most popular attractions will see you pay well over the odds for a pretty basic hotel room for nothing more than the convenience of walking distance to a few tourist attractions.
If you scratch beneath the surface, you will find there is so much more on offer in London and there are so many better options when it comes to accommodation above and beyond the traditional hotel room.
Serviced apartments and other more experienced based accommodation options not only provide you with a home away from home, but they also incorporate the culture of the city and the area you're staying in. Not only can they be more cost effective, but you will also get more space, a unique, design-led experience, a more personal touch and real feel for the city."