John Bunyan Museum tells the story of the Bedford man who wrote The Pilgrim's Progress, one of the greatest novels in the English language. During his remarkable life Bunyan was a soldier, tinker, preacher and dissenter, spending 12 years in Bedford prison for illegal preaching. Museum visitors walk through Bunyan's life and times; see 17th Century Bedford, hear Bunyan tell his story, and visit him in prison. Free family friendly trails are available to help children explore the museum.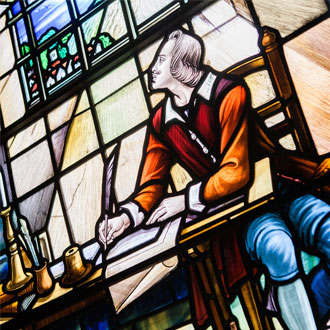 On entering the museum, visitors are greeted with a three-dimensional model of Bunyan towards the end of his life. Visitors are invited by Bunyan to join him as he looks back over his life. The periphery of the room is made up by a series of tableaux, room sets and reconstructions, interspersed with information points.
Bunyan Meeting church was built in 1850, and stands on the site of Bunyan's original church where he was minister from 1671 to 1688. Scenes from The Pilgrim's Progresscan be found on the bronze entrance doors and stunning stained glass windows.
Basement at Bunyan Gallery opened in 2017 has a wide programme of community art exhibitions, workshops, and events. There is no onsite parking; the closest multi-storey car park is in Lurke Street, less than 2 minutes' walk away. Pre-booked groups and schools are welcome year round, and limited coach parking is available. 
The church foyer coffee shop serves a selection of hot and cold drinks, Sandwiches and cakes.
The museum shop has a wide selection of books and souvenirs for all ages.
The museum has both disabled toilet facilities and baby changing facilities onsite.
John Bunyan Museum is open Tuesday to Saturday 11am to 4pm from February half-term to October half-term (Bedford Borough Term) 
Saturdays only in November and January, and Closed Good Friday and December