This February half term, new research reveals that one in six (16%)1 parents are planning a family staycation, whilst just over a third (34%)2 will stay put at home.
That means families up and down the UK will be looking for fun activities to fill the half term break – which not only can be an extra-added stress for busy mums and dads, but also can be costly.
According to family activity app Hoop, just under one in five (18%)3 parents admit that they struggle to find different things to do. Almost one in ten (7%)4 go as far to say that they dread half term – especially in February.
But the break doesn't have to be a chore. In fact, Hoop has been designed to provide parents with a wealth of different options to enjoy with their kids.
A quick search of the app will list everything that's happening in the local area – meaning that you can try something new on your doorstep or find a different, unique activity as you explore what the UK has to offer.
Whether it's a circus skills class or Whodunnit mystery for the whole family, ten half term highlights can be found below:
Imagine Children's Festival at the Southbank Centre
Festival for Up to 12 years
Wednesday 13th to Sunday 24th February
Royal Festival Hall at the Southbank Centre, London
Both free & paid activities
Circus Skills for 5 - 16 years
Monday 18th to Friday 22nd February
Stoke Newington School and Sixth Form, Stoke Newington
£55 per Single Day Workshop | £250 per 5 Day Workshop
Concert for All Ages
Selected dates throughout half-term
Locations in Bourneville, Cambridge, Guildford, Henley, London, Reading & Solihull
£9.00 per adult 
The Earth's Environments with Culture Coventry 
Art for 3 - 16 years
Friday 22nd February
Herbert Art Gallery & Museum, Coventry 
General admission £2.50
Yorkshire Sculpture Park: Family Casting Workshop
Arts & Crafts for 8 years and above
Saturday 16th February
Yorkshire Sculpture Park, Wakefield
Ticket £20.00
Whodunnit? A Family Friendly Mystery Trail
History for 3 years and above
Saturday 23rd February
Aston Hall, Birmingham
Child £3.00 | Adult £8.00 | Family Tickets £17.40 - £22.60
Comedy for 6 years and above
Saturday 16th & Saturday 26th February
Locations in Brighton, Derby, Guildford, Leicester & Newport
General admission from £8.00
The Outdoors Project Holiday Club: Bring Literature To Life, Carve & Cave Painting, Campfire Cookout & Loot Llama Revenge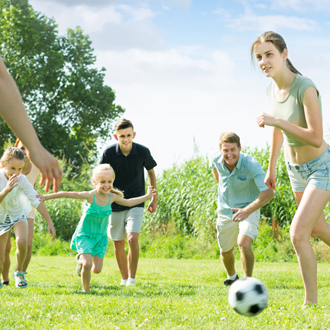 Outdoor Play for 5 - 12 years
Monday 18th to Friday 22nd February
Hove Park, Brighton
One day workshop £28.00
Festival for 3 years and above
Wednesday 20th to Wednesday 27th February
Jorvik Viking Centre, York
Both free & paid activities
Puppet Making Workshop with Get Creative in Brighton
Puppet Making for 18 months - 11 years
Tuesday 19th February
Patcham Methodist Church, Brighton
Child £5.50
About Hoop:
Hoop is a free app that makes it easy to discover what's on for kids.
Started by a group of parents that regularly found themselves wading through parenting forums, local notice boards and websites to see what's on for their kids locally, Hoop is now the UK's #1 place to uncover new family activities.
Since launching in 2016, over 1 million parents have downloaded Hoop - equating to one in ten parents in the UK and one in five parents in London.
Designed for families with newborns to 11 yrs old, Hoop lists over 100,000 different family-friendly activities, classes, workshops and events each month. The helpful app was picked by Apple as one of its best apps of 2016 and 2017.
Hoop is free to download at www.hoop.co.uk and is available in the Apple App Store and Google Play Store 
The team behind Hoop previously founded 'VoucherCodes, Europe's largest voucher code website which helped over 8 million UK members save money at their favourite stores.