Welcome to Fairfax Corner Eco Holiday
 Accommodation
We are in a central location, at 26 Fairfax Street, York YO1 6EB, and are dedicated to supporting you with comfort and enjoyment in this historic City
We hope our guests enjoy their stay in the historic City of York, and that they are comfortable in this traditional Corner Shop. Until the 1980's this was Dooley's Grocery Shop, a firm favourite with local people, and still remembered with affection by many who came here for their childhood sweet ration, or daily grocery order. Just as it made a contribution to community life in the last century, we want Fairfax Corner to support the neighbourhood by promoting the benefits of environmentally responsible management and use of energy, supporting local traders and charities in the purchase of cleaning materials, and other provisions such as bedding, equipment, furniture etc., advertising local events and activities to our clients, providing fairly paid work locally, but most importantly, encouraging all to come back to York again and again!
We lived in this house for some years, and have deliberately tried to maintain that 'lived in' feel, as opposed to a more impersonal approach to the décor. Our clients seem to like this style, as a typical recent review testifies, "The extra games room was a surprise, a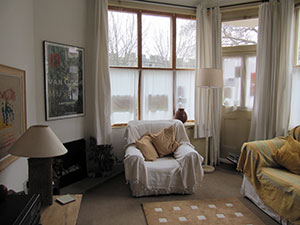 separate front room, no outside noise, warm, everything you'll need, wi-fi, and the children had never been down a cellar before, let alone one with a ping pong table! My smallest discovered Wordsworth amongst the vast collection of beautiful books - they loved it! The location is perfect and we didn't have enough time in York this time round. Beautiful view of the ancient wall, next to a toddler park in quiet but central location."
We have supported this facility for more than a decade now, and have undertaken a continuous programme of improvements, most recently the installation of photo-voltaic generator panels on the roof, to provide electricity and heat the water.  In a house of its age, the work never is concluded, so we welcome suggestions and ideas.