City Cruises has the summer event season covered with a programme of sailings that allow guests to see London from a different view. From alfresco Movies on the River to the launch of Tunes on the Thames, a new Tiki Lounge Bar and an adrenalin rush down the River Thames, there is an activity to suit everyone. 
Movies on the River
Back by popular demand, London's only floating cinema has returned. Time Out, the global brand that inspires people to make the most of the city, and City Cruises will host Movies on the River until 3 August 2019.  Sailing five nights a week, Tuesday to Saturday, Movies on the River shows a blend of recent Oscar nominated and award-winning films including Bohemian Rhapsody,  A Star is Born, The Favourite and Mary Poppins Returns, as well as all-time classics such as Breakfast at Tiffany's, The Greatest Showman, Romeo & Juliet and Top Gun. Tickets start from £29 including sunset cruise and open-air screening via timeout.com/movieboat.
Tunes on the Thames
City Cruises will launch its first-ever calendar of music events on 23 June 2019. The programme, Tunes on the Thames, will see music-lovers dance, sing and relax to their favourite DJs and acts including Pure Garage, Tom Green, Charlie Powel, Remel London and many more. The Silent Disco sailings and a Champagne Sunday Brunch will take guests on a three-hour experience along the Thames, pairing the iconic sights of London's skyline with popular hits for a unique experience that appeals to varying music tastes.
The Silent Disco sailing departs Tower Pier at 8.00 pm on selected dates, commencing 28th June 2019, and is priced from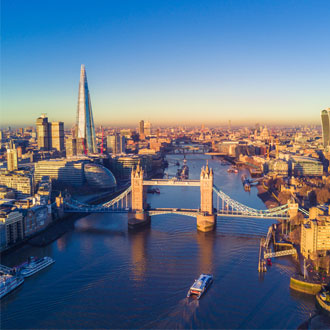 £39.00 per person.www.citycruises.com/special-events/tunes-on-the-thames/silent-disco
Champagne Sunday Brunch experiences depart Tower Pier at 10.00 am and 2.00 pm on selected dates, commencing 23rd June 2019, and is priced from £49.00 per person. www.citycruises.com/special-events/tunes-on-the-thames/champagne-sunday-brunch
Tiki Lounge Bar, R.S. Hispaniola 
This summer R.S. Hispaniola, moored by Victoria Embankment Pier, has transformed the rear alfresco deck into a Tiki Lounge Bar with live DJ sessions, cocktails and a selection of gastro treats. The terrace offers unrivaled views of London's skyline including the London Eye and Big Ben, and throughout the summer season guests can enjoy the following events:
Friday 7th June – Ibiza Funky House Summer Vibes
Sunday 9th June – Jazz Chilled tunes
Friday 5th July  - Ibiza Funky House Summer Vibes
Friday 19th July – Ibiza Funky House Sound of the Summer
Friday 9th August Ibiza Funky House Summer Vibes
Sunday 11th August – Jazz Chilled Tunes
Adrenalin Rush on the River
City Cruises' Thames Jet experience is one for those who enjoy speed. London's landmark sights and bridges rush by before guests experience some movie-like maneuvers for those wish to reenact a James Bond moment or two.  Until 31st August ThamesJet is offering all guests a complimentary 24-hour City Cruises sightseeing ticket to see the sights at slower speed for Instagram moments. The sightseeing ticket is valid until 30th March 2020. A Thames Rush experience starts from £29 for under 16 year olds and £39 per adult. www.thamesjet.com