Family days out at Blists Hill Victorian Town with a Beatrix Potter theme; Easter school holidays 13 – 28 April 
There are loads of activities planned for families visiting Blists Hill Victorian Town, one of the Ironbridge Gorge Museumsin Shropshire, this Easter school holiday. Some have a Beatrix Potter theme.
From Saturday 13 to Sunday 28 April you can follow trails around the 52-acre open-air museum where life over 100 years ago is recreated. The Easter bunny has lost his dinner, help feed him by tracking down his fruit and vegetables hidden around the Town. Older children and grown up kids can search for the symbols used by Beatrix Potter in her coded diary to represent letters of the alphabet. Find all and decipher the secret message. Complete the trails and collect free hen size chocolate eggs for an Easter treat. 
Remember to go along to the Town's woodlands every afternoon at 2.30pm and listen to readings from Beatrix Potter's books bringing the tales of her favourite characters to life. 
Take part in fun hands-on activities during your visit including candle-dipping and making watercolour bookmarks in the Goods Shed. Pop into the New Inn for a lunchtime sing-a-long with the pianist, then walk through the historic streets down to The Green and have a go at traditional Victorian games, like croquet and stilt walking and ride the chair-o-planes in the Victorian fairground.
There will also be horse and cart rides plus a daily walking tour around the recreated Victorian Town, while the bravest visitors can take part in a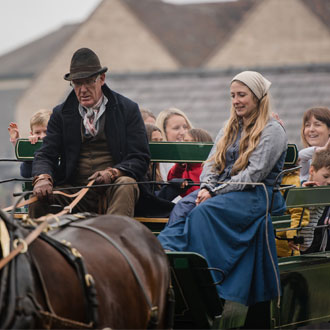 Victorian school lesson at 12noon!
The Town's resident blacksmith will be working at his red-hot forge every day over the holiday, except Mondays and Saturdays. You can see him making a variety of items from keyrings to pokers in the traditional fashion. 
One of the 10 Ironbridge Gorge Museums, Blists Hill Victorian Town is open from 10am until 4.30pm; entrance is £18.50 adults, £13.50 60 plus and £11.50 children 5-16, under 5s free.  
A great value Annual Passport Ticket allowing multiple visits into all 10 museums costs £26.50 per adult, £20.50 for seniors, £16.50 for children (16 years or under), £70 for a family of two adults and all their children and £50 for a family with one adult; under 5s free (terms and conditions apply); Passports can also be bought online in advance saving 5% and individual entry tickets are available at each museum. Activities will vary from day-to-day and some additional costs will apply.
For further information, call the Ironbridge Tourist Information Centre on 01952 433 424 or visit www.ironbridge.org.uk. The Gorge is easily reached via the M54 motorway exiting at Telford junction 4 or 6.