The Lake District is arguably the adventure capital of the UK with some of the finest walks and mountain scenery anywhere in the world.  This compact adventure playground hosts a variety of possibilities for adventure, fun excitement and even relaxation.
Joint Adventures is a small company running outdoor adventure activities.  Based in the village of Coniston in the heart of South Lakeland, for many it is the best place to come for an adventure.  Owner Adam McCluskey has over 20 years' experience of running outdoor activities.  Having brought up his children in The Lakes he particularly enjoys working with family groups and has experience of working with many families to inspire them to get out and enjoy outdoor adventures.  He believes that "Giving children the chance to experience outdoor activities opens up a whole range of opportunities for fun and enjoyment.  Taking part in outdoor adventures also helps people develop their ability to make good judgements, become independent and stay healthy."  
Joint Adventures also runs activities for stag, hen and birthday parties, school groups, corporate groups and just about anyone who is interested.   In Looking after a diverse range of people Joint Adventures uses a range of qualified and experienced instructors who mostly live to enjoy the outdoors. Literally they want to share their love for outdoor adventures with everyone they meet.  The company is licensed by the Adventurous Activities Licensing Service to provide a range of adventurous activities for groups and individuals. 
First steps to your adventure?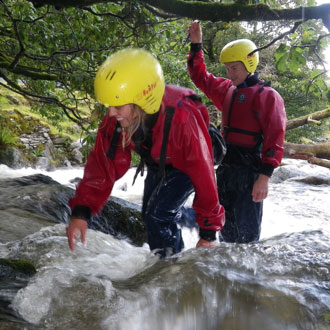 You can have all sorts of adventures and it doesn't have to be horribly cold and wet.   Rain doesn't mean the fun has to be put on hold.  And the intention is to have as much fun as possible whilst probably learning new skills.  To start with you need to have the right clothing.  Joint Adventures provides a good level or equipment for your adventures (clean dry wetsuits for water based sessions means that you stay warm).  People need to feel comfortable and confident as they are setting out on their adventure.
The Adventures:  This one is really weird but most people who do it reckon it's a must do activity.
We have adventures purely for fun; gorge scrambling has got to be at the top of the list for this.  Jumping into pools and scrambling through water over rocks has got to be the most insane thing to do but almost without exception is enjoyed by everyone who does it with us.  To this day I really don't fully understand why!  It can be run for the brave and the bold or just those who are open to new experiences but are timid (or very cautious) and want to start gently.   Using a variety of mountain streams the adventure can be adapted to the weather and people taking part.
Getting out on the water
Paddle sports like canoeing and kayaking, also hold a myriad of possibilities for fun and adventure. Mostly we start paddling on Coniston Water.  This is the Lake District's 3rdlargest lake but is relatively quiet and set in the shadow of The Old Man of Coniston.  There is good access to the lake and you can have a relaxing paddle amidst the views of surrounding fells or take a longer journey along the length of the lake. For Swallows and Amazons fans you can visit Wild Cat Island, which was made famous by the author Arthur Ransome in his stories of his adventures as a child on holidays in The Lakes.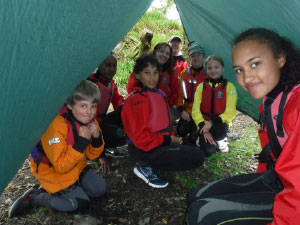 The Island is owned by The National Trust.  It has special conservation status so you should not camp overnight on the island or light fires.  You can still have a pretty good adventure though.
You may have a different purpose in taking up a paddle.  If you want to learn skills or develop a new hobby then this might be the perfect place to start.   Moving on in skill and experience level you can enjoy paddling one of the areas many rivers.  This usually requires more skill and a taste for the excitement of paddling on white water.  You can also choose to make journeying your goal.  Canoes are the classic journeying craft use to cross the great Lakes of North America and Canadian (hence the term Canadian Canoe).  Your first canoe journey may start on Coniston Water but you don't have to stop there.  As you develop a taste for it and skills to match you can journey on many of the lakes, loaches and waterways in the UK or further afield.
Rock climbing
The first recorded ascent of Pillar Rock by in 1826 by John, a climb rather than a walk,  was considered to be the birth of English rock climbing.   And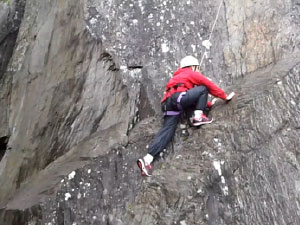 so it all began.  You don't need to start with Pillar.  There are lots of rocky outcrops which are a good starting place and climbing quickly becomes an absorbing sport.  It allows you to challenge yourself physically, and mentally.  You don't have to compete with anyone and the motivation lies in the feeling of success as you ascend what can seem to be an unconquerable monolith.   Making use of an experienced instructor who can take the right approach to you and meet your needs is the way forward to becoming someone who enjoys the sense of achievement on reaching the top of a climb and also enjoys the quietness and beauty of their surroundings.
So what's not to like?  
Well stepping into the unknown can be a daunting task.  Obvious solution; use a guide or seek advice.  Take steps which you can manage and enjoy.  If you are physically fit or can manage any health issues there is no reason why you can't become an independent adventurer and spend many a day (or night) doing, planning and living your adventure.  For details of what adventures may await you and how you and your friends can start  you can contact Joint Adventures.  Visit www.jointadventures.co.uk for more details and information.