The Villa Marina features an intimate concert hall, versatile event spaces, cinema and a children's play area, it's the ultimate entertainment experience.             
The centrepiece of the Villa Marina is the Royal Hall. A spectacular auditorium that combines Edwardian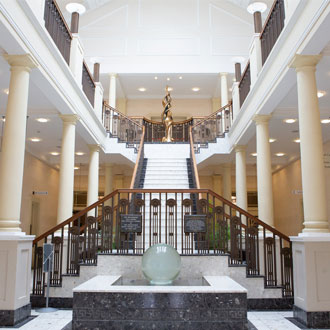 grandeur and comfort with the latest sound and lighting systems, to create an amazing atmosphere at every show. Hosting some of the biggest names in music and comedy, it promises a great night every time you visit.
The Villa Marina is home to the Broadway Cinema, showing the latest movie releases 7 days a week.
Last but not least the Villa Marina is home to the popular Dragon's Castle Play Area is the perfect place to let your young adventurers explore whilst you relax with a cup of coffee!
The Villa Marina is also the Isle of Man's premier venue for all your business and social events. With a choice of three deluxe suites and a state of the art cinema, we offer bespoke and flexible options to guarantee your event will make a lasting impression. For major conferences and exhibitions, the Royal Hall is unrivalled: being the only venue on Island capable of playing host to over 1000 delegates and offers an impressive arena within which to represent your brand on a larger scale.
Gaiety Theatre
Nestled on the promenade of Douglas stands the Gaiety Theatre, the jewel in the Manx Heritage crown. Steeped in history and tradition, the Gaiety Theatre is one of the finest remaining examples of work by the legendary theatre architect, Frank Matcham. First opened in 1900, the Gaiety Theatre underwent extensive restoration for 30 years to return it to its current magnificent condition. It is a stunning setting to enjoy a year-round calendar of plays, musicals, concerts and comedy shows.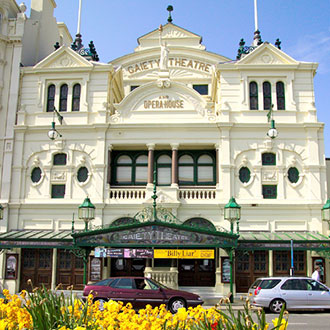 With tours every Saturday throughout the summer season, the Gaiety Theatre is an unmissable attraction for residents and visitors to the Isle of Man.
Villa Marina Arcade
Fully refurbished in 2010, the Villa Marina Arcade is home to the Isle of Man's Mighty Wurlitzer. A purpose built performance area provides audiences with one of the best settings to enjoy the experience of Wurlitzer music. 
The Arcade also features the famous Davidson's Ice Cream Parlour and the Italian Job Restaurant serving great Italian food in a relaxed family atmosphere.