It's time to wave goodbye to the January blues this New Year and head down to Willows Activity Farm near St Albans for the all new Wintery Warm Up Weekends, on the 25-26 January and 1-2 February.
 
Visitors to the Wintery Warm Up Weekends will get to experience winter magic in three new theatrical productions with the Eskimo Show, Winter Fairy Show and the Snow Queen performance – the latter a tale of Sprig, the winter sprite doing jobs for the Snow Queen.
 
Resident Alaskan malamute Mischka will be warming the hearts of guests as she makes an exclusive appearance in the new Eskimo show. Fans of Mischka's performance will be pleased to hear that she is also holding meet and greets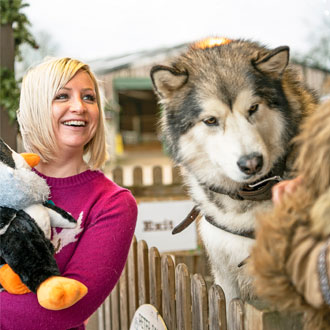 both weekends.
 
Not to be missed is the event's brr-illiant new game, Hide and Shivery Seek, where the kids can let off steam in the hunt for some hidden winter warmers.
 
Kevin McIllmurray, General Manager at Willows Activity Farm says: "After a busy Christmas, we're keen to continue spreading joy here at Willows. 
 
"From the usual activities such as Pat a Pet, to our brand new Eskimo, Snow Queen and Winter Fairy Shows, we are excited to be holding a new event which we hope leaves families feeling extra warm this winter!"
 
Peter Rabbit, Benjamin Bunny and Lily Bobtail will also be joining in the fun, as they star in their own wintery shows and meet and greets.
 
In addition to the whole new programme of winter entertainment, there is also feeding time on the farm, arts and crafts in the Busy Bee Marquee, and an indoor soft play barn for the family to enjoy.
With the all-inclusive price Willows offers to guests, families can access all activities throughout the day. Discounted tickets can be purchased online at www.willowsactivityfarm.com.
Wintery Warm Up Weekends take place on 25-26 January and 1-2 February. For more information, call 0333 331 2060, or like and follow @Willows_Farm on Facebook and Twitter for all the latest news and updates.