A selection of refurbished, high-quality, luxury chalets and brand new caravans are now available to book at popular seaside destination, Belle Aire Holiday Park in Hemsby. The luxury accommodation in Norfolk is set to be a hit with visitors looking for a staycation to remember.
Belle Aire Holiday Park in Hemsby, Norfolk, has been a firm favourite with families and couples for decades, providing the perfect location for a seaside getaway, along with great entertainment and food at their popular onsite venue, Club Belle. With the continued rise in UK staycations and increased customer demand, Belle Aire's management team have been busy preparing the selection of luxury chalets and brand new caravans, ready for the summer!
The impressive new accommodation showcases a modern and sophisticated interior, decorated with neutral colours. The chalets sleep four very comfortably and are fully equipped with a modern kitchen, a compact but fully functional luxurious bathroom and an extra cosy Hypnos mattress in the master bedroom.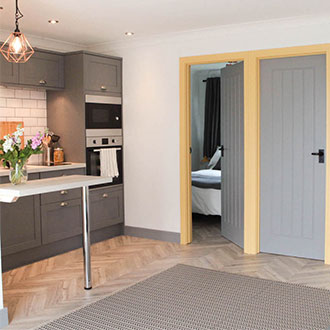 The caravans are new to 2019 and follow a similar aesthetic to the chalets, with the interior being chic and stylish. Belle Aire offers both two and three bedroom caravans, with some being specifically designed to be accessible for wheelchairs, alongside other extras. These finishing touches will guarantee that all guests experience the very best of the British seaside in five-star luxury!
Belle Aire's new accommodation is already receiving rave reviews, with customer feedback including; 'The best chalet I have stayed in!' and 'Exceptional chalet, spotlessly clean and superbly presented.'
Sally Burrell, co-owner of Belle Aire has been thrilled at the response the new accommodation has received so far. She says: "We felt it was time to drag the holiday park experience into the 21st century for customers who want a great British holiday but want a bit of luxury and comfort too.  A kind of Hi-de-Hi with none of the low-de-lows you can get in some old fashioned resorts.  We are really looking forward to giving many more customers some very special holiday memories."
Based on the coast of Norfolk, Belle Aire Holiday Park is the traditional seaside holiday with some the East coast's best beaches on our doorstep – highlighting the simple pleasures in life. The holiday park offers a varied entertainment programme in our Showbar ranging from chlidren's entertainment to live bands, stand-up comedy and, new for 2019, Bonkers Bingo - a crazy version of the seaside favourite.  There is a varied menu of high-quality food, a cafe and shop with children's arts and craft activities and a children's play area.  Dogs are also welcome.  Beach Road in Hemsby Village is crammed with all the seaside favourites and a few minutes down the road is the beautiful seal colony at Horsey Gap and other stunning beaches, cosy pubs and great walks.
See hemsbybelleaire.co.uk for more information on the luxury accommodation in Norfolk.