Come and discover 900 years of history and help us celebrate this historic year for Carlisle Cathedral as we celebrate our 900th anniversary.
We may not be the best-known mediaeval Cathedral in England, we certainly are not the biggest, but after standing on the border with Scotland for nine centuries, we most definitely have a lively story to tell.
We hope you will come to visit us and enjoy the beauty of the Cathedral and its precinct – w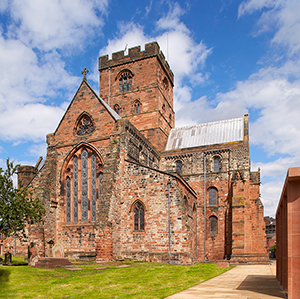 ith its refurbished Fratry and eye-catching new Cafe.
As we emerge from the Coronavirus pandemic, we have prepared a year long programme of events, activities and engagement which will allow our many visitors, in a multitude of ways, to be part of this continuing pattern of journey and rest, while discovering the turbulent story of this jewel of the North West of England.
Open 7 days a week with FREE entry and offering FREE children activity packs and FREE guided tours of the Cathedral every day, we have our own Gift Shop and Café – Carlisle Cathedral really does offer something for everyone all in the Cathedral's precinct in the heart of the city of Carlisle, within walking distance from the town centre, Carlisle Castle and Tullie House Museum. 
For make it an even more special visit, why not contact us to book one of our guided tours of the Cathedral or even view the Cathedral as never seen before by booking a Bell Tower tour. Get up close with our famous stary ceiling and visit the Bell Tower and ringing room. There are 137 steps to climb to the bell chamber and the route includes some confined spaces Bell Tower Tours are bookable by appointment only. Contact us now to book yours today.
Contact details: Carlisle Cathedral, The Abbey, Carlisle, Cumbria, CA3 8TZ
Tel. No: 01228 548151 Email: info@carlislecathedral.org.uk Website: www.carlislecathedral.org.uk