We all love getting the most out of our pennies, especially at the moment. That's why BeWILDerwood have just announced some changes to their popular WILD WILD WILD Annual Passes, including a new reduced price. 
Now priced between £45 and £75, their Annual Passes allow unlimited daytime visits between February-October (seasonal opening applies). Like before, pass holders will also receive 15% off all food and gifts whilst at BeWILDerwood.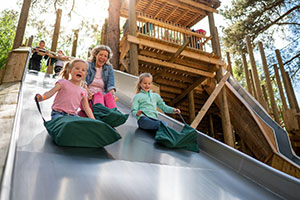 Author and creator of the parks and BeWILDerwood book series Tom Blofeld commented, 
"After a lot of consideration, we wanted to ensure our Annual Pass holders were really getting the best value from their passes. So, we've reduced the prices and added lots of new benefits. It even includes an exclusive event just for Annual Pass holders! It's really exciting and we hope locals will enjoy this great offer. Afterall, it means family days out are sorted for a while!" 
As well as running WILD as many times as you wish and getting some lovely discounts whilst at the park, the new passes also include some special new benefits. If you know BeWILDerwood at all, you'll know about their amazing events… Annual Pass holders will get 15% off all special events and the pass will guarantee you a spot to these events (which usually sell out very quickly) when prebooking in advance. 
New for 2023 – An exclusive BeWILDerfriend evening will take place just for WILD WILD WILD Annual Pass Holders. The event will give you special access to the park and you'll have the opportunity to meet BeWILDerwood creator and author Tom Blofeld. More details on this special event will be announced soon! 
As if that wasn't enough, pass holders can invite a friend or family member to come and play in the woods as the adventure park introduce a new 'bring a friend to play for freeee' day ticket as part of the membership offering (1 free visit per annual pass holder). 
If you want to become part of the BeWILDerwood family and enjoy unlimited visits to the woods, exclusive events and special discounts, simply purchase a day ticket and upgrade to an Annual Pass on the day of your visit. Alternatively, you can purchase an Annual Pass Gift Voucher on the website to redeem when visiting the woods: www.bewilderwood.co.uk. 
Please note, current Annual Pass benefits and prices will remain the same until pass expires. The above applies to new Annual Pass purchases only. Annual passes are valid for one park only, either BeWILDerwood Norfolk or BeWILDerwood Cheshire. 
Opening Date and Times: 
See website for seasonal opening dates: 
WILD WILD WILD Annual Pass Prices: 
(Annual Passes – allow named person unlimited entry to ONE park from date of activation) 
Almost WILD (92-105cm) £65 
BeWILD Now (Over 105cm) £75 
Still WILD (65 years+) £45 
Website: www.BeWILDerwood.co.uk