North West music festival Lytham Festival is celebrating its 10th anniversary in 2019 with its biggest line-up ever.
Legendary rock star Rod Stewart, international pop star Kylie Minogue, indie rockers Stereophonics, 80s synth-pop band The Human League and Hollywood Proms featuring Michael Ball and Sheridan Smith will take to the stage over five nights for Lytham Festival 2019.
The 10th Anniversary festival will take place in the Main Proms Arena on Lytham Green from Wednesday 10 – Sunday 14 July.
Tickets are on sale now here.
Electronic new wave band The Human League open Lytham Festival in the leafy Lancashire town on Wednesday, July 10. They're supported by Voice of M People Heather Small with pop-rock band China Crisis opening the show.
The following night, Thursday 11, sees one of Britain's biggest bands Stereophonics headlining.
Globally celebrated superstar Kylie will headline on Friday 12, performing a series of career-spanning hits from her unparalleled back catalogue. Brit singer-songwriter Sophie Ellis Bextor will support and Radio 2 DJ Ana Matronic will warm up the crowd.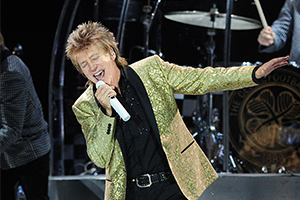 Meanwhile, Saturday night will see legendary rock superstar Rod Stewart headlining with his unique voice and styling bringing a show which promises to be filled with both classics and new hits in his dazzling signature style.
Lytham Festival will close on the Sunday with a glittering and dazzling Hollywood Proms finale celebrating music from the movies. Headliners Michael Ball and Sheridan Smith are already confirmed with more names to follow.
Festival director Peter Taylor is thrilled with the line-up. "2019 is a massive year for Lytham Festival so we wanted to make sure we had a massive line-up," said Peter.
"We have wanted to bring both Rod Stewart and Kylie Minogue to Lytham Festival for some time, so we are delighted they can both headline for our 10th anniversary year. To then also be welcoming Stereophonics, who are one of the biggest British bands of the last 20 years, the 80s legends that are The Human League, as well as Sheridan and Michael heading up what will be our Hollywood Proms night, is fantastic.
"Every year is important but our 10th anniversary is such a significant milestone and we want to see everyone partying with us. We feel the line-up for 2019 is a celebration of all that we have done with Lytham Festival during the past 10 years which is to appeal to as wide an audience as possible.
"We will be welcoming globally renowned musicians and artists to Lytham once again and we can't wait to see everyone there."
For more information go to the Lytham Festival website
PHOTO:  Sean Hansford