Arundel Castle in West Sussex has announced a busy calendar of thrilling living history events and record-breaking flower displays for its 2020 open season.
From April to October, visitors will have the chance to experience 16 events including the Annual Tulip Festival, International Jousting Tournament and 12,000 Years of Combat.
On the weekend of 4-5 April, the 2020 open season will commence with Combat at the Castle, a journey back to the year 1102. With crafts, combat demonstrations and the chance to meet a 12th century garrison of soldiers, the event is an opportunity to get up close and personal with the Castle's Norman past.
Over 80,000 tulip bulbs in over 120 varieties await spring's return throughout the Castle's famous gardens. The Annual Tulip Festival returns in April and is renowned for its record-breaking numbers of blooms. The gardens turn to dreamy shades of purple, white and blue in May as thousands of flowers blossom for the Allium Extravaganza.  
A fierce clash between four nations will take place in the summer heat at the International Jousting Tournament on 21-16 July. England, Sweden, Australia and defending champions France will face each other on horseback for the ultimate test of skill and strength.
The August bank holiday weekend will see Arundel Castle enter a time warp as 12,000 Years of Combat (29-31 August) brings experts in eras from the Stone Age to the Victorians together for the ultimate who-would-win showdown.
Castle Manager Stephen Manion commented: "Our dedicated teams of gardeners and historical interpreters work the year round to create a dazzling calendar of events for our open season"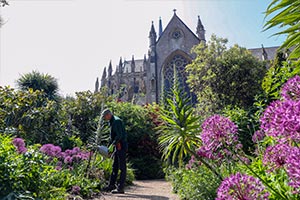 "Immersive, historically accurate events and stunning displays in the gardens will make days out in 2020 even more spectacular. Inside the Castle there is nearly a millennium of history to explore and friendly and talented guides to bring it to life."
Arundel Castle will be open from Wednesday 1 April to Sunday 1 November 2020. The Castle and Gardens are open Tuesdays to Sundays inclusive, May Bank Holiday Mondays and Mondays in August.
Please visit http://www.arundelcastle.org for details of the Castle's full events calendar for 2020.
Events at Arundel Castle in 2020 include:
Combat at the Castle  (4-5 April)                   
A Call to Arms! (11-13 April)              
Annual Tulip Festival (April)               
Spring Plant Fair (26 April)                 
Allium Extravaganza (May)                
Raiders of the 15th Century (23-25 May)
History Days (28 May, 30 July and 4, 27 and 28 August)
Mustering for War (20-21 June)                    
Norman Knights Tournament (11-12 July)                
International Jousting Tournament (21-26 July)        
Family History Weekend (15-16 August)       
Shakespeare performances (21-22 August)               
12,000 Years of Combat (29-31 August)        
12th Century Knights (20 September)
Norman Knights (28 -29 October)