Breath-taking vistas of mountain valleys, moorlands and forest.  Stunning seascapes, and panoramas of rolling countryside, without a road in sight. Discovering little known routes and places, and sights that can't be seen from a car or coach. For some, that means hiking boots, rucksacks and maps and, often, a hearty disregard for unfriendly weather. For some eleven million people each year, it means something much easier, and quite different: taking a ride on heritage railways.
Heritage railways come in all shapes and sizes. There are the modest (but totally professional) narrow gauge railways, with a mile or so of track; and there are sophisticated commercial railways of the kind that can take you from one holiday town to another, on trains that, in days long gone by, ran on the national network.  And there are railways of every kind in-between, whether steam, diesel or vintage electric.  They're all different, but they all offer an extraordinary breadth of visitor experience.
The view from a railway carriage offers a unique outlook, a privilege afforded only to the rail passenger. Often the view is across open countryside, a hidden woodland or a panoramic landscape  - all seen from a different angle. Sometimes it's the view of a proud industrial landscape – one built by and for the railway itself.
Either way, it's never dull.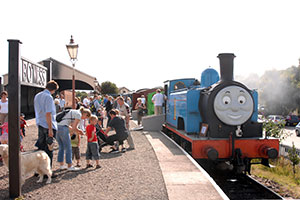 An immersive experience
Heritage railway travel is evocative stuff, a kind of time travel.  Squeezed on the painted wooden seat of an open narrow-gauge carriage winding round a Welsh mountainside, it's hard not to think you're a slate miner from 100 years ago, on his way to a long and hard day's work. On the other hand, in the plush velvet and varnished mahogany of a First Class compartment hauled behind a majestic steam locomotive, you might be a member of a wealthy Victorian merchants' family, en-route to an English seaside summer holiday. Heritage railways are very much a kind of living history, and they have a special way of making you a part of it.
Almost invariably, at one or other end of the journey – sometimes both – there's plenty to do. With museums, childrens' activity areas, exhibits, workshops, tea-rooms, shops, learning zones and, often, other attractions – a heritage railway visit can be as entertaining, as educational, or simply just as absorbing, as you wish. Themed events like Santa Specials, a Hogwarts Express, or Thomas the Tank Engine Days mean great days out for families with children. Special excursions with restaurant cars offer fine dining on the move for grown-ups. Guided tours round engine sheds and signal boxes help explain the part Britain's railways played in shaping a society and an economy that became the envy of the world.
Railways – still the best way to travel
Heritage railways are much more than just destinations. On a charter train, for example, you can travel on Britain's main line network, sometimes from one end of the country to the other, travelling in period style and comfort on a train hauled by world-famous locomotives like the Flying Scotsman. On arrival, enjoy the destination city, spend a night in a good hotel, and return the next day.
And here's the thing: because so many of our heritage railways were once a part of the country's rail network, you can often reach them by main line rail. That means a comfortable, stress-free, car-free day out for the whole family.
There are around 130 heritage railways in the UK so, wherever you are, there's one not far away. At www.heritagerailways.com, there's a map showing the location of every member of the Heritage Railway Association. Click on the map to be taken directly the chosen railway's website, which will tell you all you need to know about what's on offer, and how to plan a visit and enjoy your heritage railway day out!
Captions:
Photo 1: A Thomas the Tank Engine special at Falkirk's Bo'ness and Kinneil Railway
Photo 2: The North Yorkshire Moors Railway takes passengers where roads don't go (sllider image)