Britain is home to historic halls, creepy castles and plentiful of paranormal activity. From poltergeists to headless horsemen and everything in-between, there's plenty of history hiding away in the UK's dark shadows. 
You should also check out some of these spooky places in the UK!
Hampton Court Palace, London – Henry VIII's ex-wives, Jane Seymour and Catherine Howar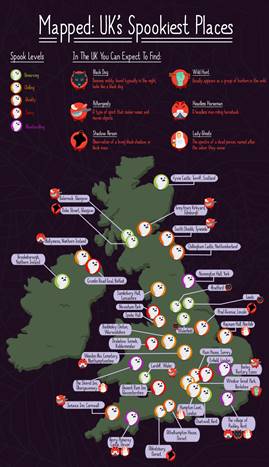 d, are often seen running across the court, screaming for mercy.
The Village of Puckley, Kent – With a ratio of one ghost to every eighty-nine people, Puckley was voted the Most Haunted Village by the Guinness Book of World Records.
Chillingham Castle, Northumberland – Once the clock strikes midnight, you can hear the ghost, Blue Boy, ear-piercing cries throughout the castle.
Raynam Hall, Norfolk – As the daughter of the UK's first prime minister, Dorothy Walpole is often seen creating hysteria throughout the hall.
Ancient Ram Inn, Gloucestershire – With walls that carry a history of children being murdered and witches being burned to the ground, it's unsurprising that many ghosts have been spotted lurking. 
Fyvie Castle, Scotland– This 800-year-old castles is known for a phantom trumpeter whose trumpet echoes can be heard throughout the castle.
Crumlin Road Goal, Belfast – This dingy dwelling used to be a jail and a courthouse, and is notoriously known for being one of the most haunted places in Belfast. 
Skirrid Inn, Wales – After the landlady tried to sell this pub, glasses began flying around the room, implying that the ghosts wanted her to stay.
Newsham Park Hospital, Liverpool – What used to be an orphanage and hospital, is now a derelict ghost-hunting playground. Here you can expect to hear the cries of children and the sounds of doors opening and closing.
Drakelow Tunnels, Kidderminister – In this old underground military facility, numerous visitors have experienced the presence of the infamous ghost, Oswald, who is known to tug hair, touch people and move items.