Neapolitan sourdough pizzeria exchanges vegetables for FREE veg pizzas to celebrate National Vegetarian Week
To celebrate National Vegetarian Week, Franco Manca is inviting guests to exchange vegetables for a complimentary veg pizza on Wednesday 17th May 2017, from 12pm – 3pm, across all its pizzerias.
All vegetables provided by customers will be donated to The People's Fridge in partnership with local food banks and charities.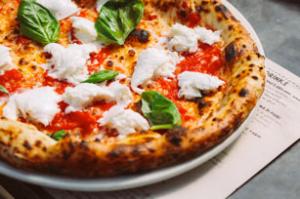 Championing the classic Neapolitan pizza-making process, the pizzas are made from slow-rising sourdough, the menu invites customers on a delicious journey using UK growers and small scale Italian producers.
Customers can enjoy classic Italian flavours from as little as £4.95, including delicious veg options such as the newly introduced pizza no. 3 (£7.35) topped with seasonal courgettes, basil, Franco & Lloyd Mozzarella from Somerset, buffalo ricotta and Franco & Cantarelligrana. Other meat- free ingredients include the wild caper berries from the island of Salina in Italy - founder Giuseppe Mascoli's home from home.
Salina is where Franco Manca is opening its first European pizzeria this summer.
To continue the celebrations, Giuseppe's favourite veg special will be available to order on Friday 19th May 2017, across all Franco Manca pizzerias. This sourdough pizza special is topped with Franco & Lloyd Mozzarella, sun-dried San Marzano tomatoes, baked potatoes, onions and pesto. All new specials are made using seasonal spring and summer ingredients, including the wild garlic which was handpicked by 48 pizzaioli in Dorset.
To wash it all down, Franco Manca offers a selected range of organic and natural wines, and their very own No Logo beer, pale ale and cider.
Alfonso Marseglia, head chef at Franco Manca, said: "What better way to celebrate National Vegetarian Week than to give back to our local communities with our delicious sourdough? We welcome all pizza-lovers to bring along their favourite vegetables and enjoy a veg pizza on us!"
For more information please visit: www.francomanca.co.uk.
Terms & Conditions:
Limited to one free pizza per person, the offer is valid for any veg pizza or daily veg special when exchanging a sizeable portion of vegetables. Dine in only at all Franco Manca pizzerias on Wednesday 17th May 2017 from 12pm till 3pm, extra toppings will be charged for. This offer is subject to availability and at discretion of the manager, and cannot be used in conjunction with any other offer or change to a cash alternative.