The younger generation's favourite gardener, Mr Bloom, is coming to Brewery Square in Dorchester on Good Friday, 14th April.
Mr. Bloom, the gardener who helps children get involved and inspired by nature, is inviting youngsters to get their squiggle on from 11am. The set will last for 40 minutes, all for free.
'Tiddlers' can win a meet and greet with Mr. Bloom after the show by visiting Brewery Square's Facebook p
age via the 'Welly Squiggle' competition – children are invited to draw welly boots for the chance to win (competition closes 30th March). To enter the competition, post the drawing in the comments section on the following post: https://www.facebook.com/BrewerySquare/photos/a.267491303324697.62440.122363981170764/1385504841523332
What's more, Brewery Square is hosting free Easter Egg hunts from Good Friday to Easter Monday, suitable for children up to 15 years old. The hunts will take place around the square from 10am until 4pm. To take part, you will need to pick up a form on the day from the Concierge Office in Dorchester, hunt for the eggs and return the form for a free Easter prize.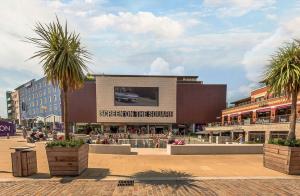 These Easter events are part of a wider programme of entertainment at the Square, highlighting just what a thriving county town Dorchester is to live and visit.
The Brewery Square development is a £100million regeneration project in Dorchester which has transformed the Eldridge Pope Brewery site, with many appealing factors such as convenient proximity to shops, restaurants and an ODEON cinema.
The retail offering at Brewery Square includes HOBBS, Phase Eight, Jones Bootmaker, Joules and Stolen from Susie. Restaurants include Zizzi, Carluccio's, Wagamama and Morrish and Banham wine merchant and tasting room.
For more information about the event, click here and for information about the Square as a whole, visit www.brewerysquare.com