New research from outdoor accommodation specialist Pitchup.com highlights Britain's most popular short- and long-break holidays. From a week-long break in the Channel Islands to a short sleepover in Wales, outdoor accommodation specialist Pitchup.com reveals the top destinations for holidays in the United Kingdom.  
With holidaymakers drawn to its relaxed atmosphere, excellent walks and intriguing history, the picturesque island of Jersey is favourite for those seeking a week away. Back on the mainland, Wrexham was the shortest break, closely followed by the Scottish central Lowlands county of Lanarkshire. 
For Brits seeking to escape the office for a staycation in 2018*, Jersey (7 nights) was followed by its neighbour Guernsey (4.64), with Isle of Wight (3.78), Cornwall (3.77) and County Down (3.4) rounding out the top five. For a quick getaway, Brits favoured Wrexham (1.53 nights), Lanarkshire (1.54), Hebrides (1.59), Hertfordshire (1.60) and Surrey (1.65). The average length of stay across all bookings in Britain was 2.69 nights. 
Pitchup.com founder Dan Yates says: "The Channel Islands and Isle of Wight offer so much for fans of the outdoors - excellent walking trails, a relaxed, natural environment away from the hustle and bustle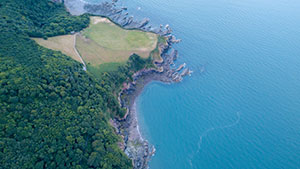 and a journey across water to reach them, adding to the adventure! In fact, water is a common thread to  most of the top long-stay destinations, from the likes of Cornwall's coast to Ceredigion's New Quay.
"Unsurprisingly, many of the short-stay destinations are areas where we see people visiting friends and family members - destinations close to or with easy public transport links to major cities like London or Bristol. Pitching a tent or parking your caravan on site gives you your own space at a great value price compared to booking a hotel in highly populated areas such as Hertfordshire and Surrey."
Finishes Yates: "Other short-stay destinations such as the Hebrides and Orkney Islands are places where guests usually move around after a night or two, venturing off to explore the next town, so whilst they do feature on our short stay list, we believe our guests do in fact spend a lot longer in total in these area."  
To book your British holidays, visit www.pitchup.com