Blair Drummond Safari Park is dialling up the fright-factor this year with a brand-new Halloween event which offers a full day of frights and fun for the whole family, HalloWild. 
A number of Alice in Wonderland-inspired Fright Rooms will be the biggest installation at the park during the event. Visitors will be immersed in a world of special effects and spooky illusions which will make pulses race.  The rooms have been created with the support of a designer in the US who has previously worked on movies such as 'Hellraiser'. Organisers warn these Hollywood inspired fright rooms are no place for scaredy cats! 
Led by the park's own 'Dangerous Dave' there will also be a chance to get nice and gooey at a spooky slime making workshop, go on an outdoor adventure to hunt monsters, follow the trick or treat trail, or paint your own animal pet rock to take home and hide. There will even be a pumpkin patch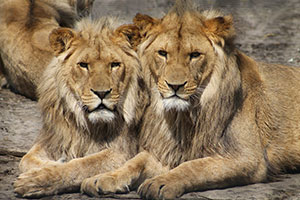 and the chance to get up close to some of the weird and wonderful creatures and deadly creepy crawlies at the park.
Marketing Manager at Blair Drummond Safari Park Liz Gunn commented, "There is huge demand for a big day out at Halloween and the Safari Park is the ideal place to create something really special.   
Autumn is a beautiful time to visit the Safari Park, and we've added to the experience this year with a range of indoor activities such as slime making and animal encounters. This coupled with our amazing Fright Rooms will make it a great day for all the family."
HalloWild is an event not to be missed this October. If you want your heart to race and your skin to tingle the Alice in Wonderland themed Fright Rooms are definitely for you. At Blair Drummond Safari Park this Halloween, where else would you be able to go on a monster hunt, enter a fright room, pick a pumpkin, then take a boat to Chimp Island, watch a sea lion show and then drive through a lion reserve?
Blair Drummond Safari Park's HalloWild runs from 13-28 October and tickets are available now online.