An unusual pop-up café is opening in East London this October, where diners will be able to enjoy a tasting menu of delicious dishes, inspired by the most commonly wasted ingredients in the UK.
Every dish on the Fresh Thinking Café menu is based on suggestions from the public, and uses surplus food from local suppliers, wherever possible. The tasting menu features a variety of imaginative dishes incorporating bread, bagged salad and fresh veg – just some of the nation's most wasted foods.
The café will be run by home appliance experts Hotpoint and opened by Jamie Oliver. It marks the finale of Hotpoint's Fresh Thinking for Forgotten Food campaign, which encourages everyone to think differently about 'forgotten food' in the kitchens.
Roughly a third (1.6 billion tonnes) of the food produced globally is wasted every year. Hotpoint's research shows that 65% of Brits worry about wasting food. And, even though a further 65% of us are concerned about saving money, UK households currently chuck £271.44 of edible food every year.
The  Fresh Thinking Café will open at 133–135 Bethnal Green Road, on Weds 10 and Thurs 11 October. Walk-ins are welcome, or customers can book on a link  to guarantee a table. The café will operate on a 'pay what you want' basis and proceeds will be donated to FoodCycle – a charity fighting food waste, food poverty and loneliness, across the UK.
Jamie Oliver says:
"Good food is a beautiful thing, it brings people together, it can cheer you up, and it can give you all the goodness you need to fuel your day – which is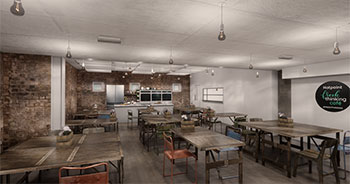 A Taste For Wastewhy me and the guys at Hotpoint don't think any of it should be wasted! I'm really excited to share tips for cutting food waste, and beautiful recipes that celebrate ingredients that often get thrown away. Together with Hotpoint's waste-savvy equipment, I want to show everyone how easy it is to cut unnecessary waste in the kitchen, and dish up delicious food at the same time."
Jennifer Taylor, Head of Brand for Hotpoint, commented:
"Throughout the summer we've been on a mission to get the UK to think differently and get creative with the leftovers in their fridge and cupboards. People from all over the country have submitted some brilliant recipes based on the top 10 wasted foods and we're thrilled to be serving a handful of these in our Fresh Thinking café and offering up some inspiration for how we can all think differently about the forgotten food in our kitchens."
UK's 10 most-wasted foods:
Bread
Bagged salad
Fresh vegetables
Cooked leftovers  
Fresh fruit
Milk
Eggs
Cheese
Meat
Fish
Jamie Oliver Q&A: Tackling food waste at home
Why is this campaign so important?
"As you can see from the stats, reducing food waste is a massive challenge. And it's something I really care about, particularly as, with just a few simple tricks up your sleeve, it can be so easily avoided. The most powerful weapons against food waste are knowing how to cook, shopping well and, of course, storing food properly. Leftovers just need a little bit of clever thinking and you can nearly always rustle up something amazing."
What are your tips for keeping food fresher for longer?
"First up, you need to know what's in the your fridge, so nothing gets forgotten at the back. Keeping it nicely ordered is the first step, making sure you always select the best place for your food. Heat rises, so keep meat and fish on the bottom shelves where it's cooler, dairy products in the middle and things like condiments and homemade salad dressings at the top (and inside the doors) for quick inspiration when you open it up. As a rule of thumb, set your fridge at 4°C or below. Store leftovers with clear labels, including dates, so you know how long you have left to use up food in a new recipe. Keeping veg in a separate crisper drawer is essential for keeping it fresh, the Hotpoint one filters ethylene gas that veg naturally produces, keeping it fresher for longer – it's so clever."
Where do you start, when cooking with leftovers?
"Sometimes, when you look in the fridge and see random bits, it can be hard to know what to do. But cooking with leftovers is a brilliant way to get creative. If you start with a basic idea like pasta or an omelette, you can easily mix up the veg you want to use to add flavour. Soups are a great place to start, too – especially hearty Italian soups like Pappa al pomodoro (bread and tomato soup) because you can use stale bread. The same for big salads like Panzanella that you can put your twist on, and make croutons from any bread that's on the turn."