One of Lincolnshire's leading restaurants with rooms has unveiled an exciting new dine and stay deal which will launch next month (November 2018). The Hope and Anchor at South Ferriby is offering guests the chance to enjoy a room for £99 and receive £30 towards their meal.
The award-winning 19th century pub – which is the only eatery in the area to have a prestigious Michelin Bib Gourmand - is located just five minutes from the Humber Bridge and enjoys spectacular views across the Humber estuary.
As well as a popular restaurant, the Hope and Anchor has five stylish rooms – allowing visitors to enjoy the amazing cuisine and then extend the experience with an overnight stay.
The restaurant offers a selection of traditional and familiar dishes, prepared by director and executive chef Slawek Mikolajczyk using fresh, seasonal produce and ingredients which reflect the area's maritime past.
Dishes include battered Grimsby-caught haddock with triple-cooked chips and mushy peas, 60-day aged rib-eye and fillet steaks, sea bream and BBQ treacle-glazed beef cap.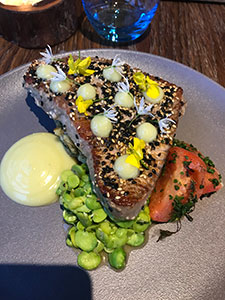 "While we are well known as a local restaurant and pub with lots of regulars, we also attract visitors from across Lincolnshire and beyond who are keen to sample our menu, but a lot of people don't realise we also have rooms," said Slawek.
"We have designed this offer to give our customers the chance to enjoy our fine food and then make a night of it in one of our stylish, comfortable rooms.
"We have had wonderful feedback so far from our guests, and now we are hoping more people will come and stay with us to see what we have to offer."
The Hope and Anchor is listed in the Michelin guide and received a Michelin Bib Gourmand award in 2017 and 2018 - an accolade reserved for restaurants which serve high quality food at a reasonable price.
It was also named in The Guardian's top 50 places for Sunday lunch and has won numerous other awards.
The offer can be purchased from 1-30 November 2018 and will be valid for stays until Friday 31 May 2019. 
It is available Tuesday–Saturday, subject to availability and a £10 per person supplement will be added for Saturday bookings.
The offer includes up to £30 per couple towards an evening meal with no restrictions. Drinks and breakfast are not included.
Full, non-refundable payment must be made at the time of booking, and the offer is also available to purchase as a gift voucher.
The Hope and Anchor will only accept bookings via email enquiries. Email info@thehopeandanchorpub.co.uk and include a daytime contact number. For more information or to browse menus , visit the website: www.thehopeandanchorpub.co.uk