Following eight months and a complete refurbishment of the site, local entrepreneur and businessman, Ian Dutton, has launched his latest venture: 'Brown Sugar'!  The new bar and restaurant, situated on an historic site in the heart of Windermere village, opened to much-acclaim on Saturday 15th September, with both locals and visitors giving it their definite seal of approval.

Built in 1877, Brown Sugar started life as an independent chemist and was later bought by Boots, who remained in the building until 1990.  Following a significant refurbishment in 2002, the building re-opened as a three-floor restaurant named The Lighthouse.  But in April of this year, Ian Dutton took ownership of the prominent site and has completely transformed it into one of the Lake District's most exciting new venues.  It has taken more than £1 million to put his very individual stamp on Brown Sugar.  

Seating more than 80 customers inside, with space for a further 14 on the balcony and 24 on the heated outside terrace, Brown Sugar remains a three-floor bar and restaurant, but with a completely new offering and sparkling new interior.  

"It's taken a gruelling eight months to achieve our vision, but we have accomplished something very special," says Ian, who, together with wife, Annette, owns The Pig in Windermere and The Village Inn in Bowness.  "We had to peel back the layers of this beautiful building and restore it to its former glory.  This included replacing all the original windows, sand-blasting the wooden beams and removing all the false ceilings.  The structure had to be made safe.  We have moved the kitchen from the first floor to the basement,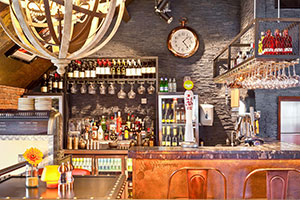 moved the loos from the top to the middle floor and undertaken a complete overhaul in keeping with the history and age of the building."

There will also be more structure with regards to each floor.  The ground floor offers café-style speciality teas and coffees such as 'Red Velvet latte' (with ground beetroot, organic cocoa, ginger and cinnamon) a patisserie and juice bar offering super-healthy choices such as 'Passion Storm' (with passion fruit, papaya, pineapple, peach, guava and aloe vera) and 'Green Reviver' (with curly kale, lemongrass, banana and mango).   The middle floor offers a more upmarket dining experience, with the upper floor, fitted out with sofa's and its own bar, available for private hire, or a place to relax with a drink prior to dinner.  A state-of-the-art sound system is available on all floors.

Breakfast, brunch, lunch, afternoon tea and dinner will be served, with options such as avocado spinach benedict; brie, wild-mushroom and caramelised pizza; butternut squash, parmesan and mint risotto and fresh scallops with chargrilled cauliflower, pine kernels, limes and cress dressing.  Specialties from the grill, pastas, steaks and power-bowl salads will also be on offer, together with an extensive range of champagnes, wine, beer, spirits and speciality cocktails.  A 'cultivator', situated on the middle floor, growing pea shoots, rocket and basil, provides the team of six chefs, with fresh produce on-site.

Brown Sugar will create local employment for more than 25 people.  Ian has also used local contractors and tradesmen in transforming Brown Sugar, working with suppliers such as DAV (for the sound-system), Lakes Catering (responsible for Brown Sugar's £330,000 kitchen), Kendal Carpets, Colin Barnes Joinery and NEC Electrics.


Ian, renowned for creating relaxing, comfortable bars and eateries has designed a warm, modern interior, punctuated with his now-infamous quirky touches.  Buckets for urinals, loos sourced from the Queen's own supplier, German push-handles in the shape of hands, and the dulcet tones of Michael McIntyre's humour, playing in both the ladies and gents loos, add to the fun that Ian is clearly wanting to generate.

"We love to create something different for our customers and following decades in the industry, know what they want!" he said.  "We've been delighted with the positive reaction to Brown Sugar so far and look forward to taking our vision forward.  
All of our businesses have evolved over the years; we're not afraid of change and I believe that's been the secret to our success."