Celebrity guests, dog agility, cooking demos and free kids' activities - plus the largest display of camping, caravanning & motorhome products and accessories all under one roof!
The Caravan, Camping and Motorhome Show 2019 is just a week away, so if you haven't yet decided what to do this half term then why not book your tickets for a guaranteed packed and fun-filled day out for the whole family? BUY YOUR TICKETS HERE
Taking place from 19th to 24th February at the NEC, Birmingham, the Caravan, Camping and Motorhome Show offers inspiration and fun for all and is great value for money, with children aged 15 and under getting in for free*. 
Set across five halls, the show features the largest display of caravans, campervans, motorhomes, caravan holiday homes and lodges, tents, awnings and accessories - plus the latest trends in destinations - all under one roof, and lets you benefit from exclusive offers on thousands of products that you won't find anywhere else.
As well as providing the perfect opportunity to get some great ideas for your next holiday and see and purchase the latest innovations in camping and caravanning, the Caravan, Camping and Motorhome Show also offers a whole host of things to see and do to keep the whole family entertained. Here are some top reasons to visit:
Celebrity Guests: See some famous faces including; presenter Julia Bradbury, Paralympian and Strictly contestant Lauren Steadmean, TV presenter Matt Allwright, Bake Off's Karen Wright and social media and internet sensations, spaniels Max & Paddy!
SAS Ollie & Jason take on the new Bear Grylls Adventure challenges: Stars of Channel 4's hit reality show 'SAS: Who Dares Wins', Matthew 'Ollie' Ollerton and Jason Fox will be at the show on Wednesday sharing their stories and testing their strength and stamina at the show's brand new Bear Grylls Adventure feature area. Based on the NEC's new Bear Grylls Adventure theme park, the feature gives visitors a chance to test their physical and mental strength by taking on a series of exhilarating challenges.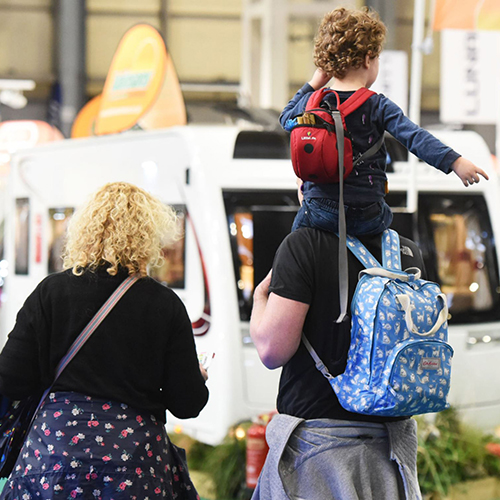 Top Dog Arena: See some amazing canine demonstrations at this returning favourite! Enjoy a mix of agility, assistance, dancing and obedience dogs. Knowledgeable commentary will guide you through each presentation and you may even see a Crufts winner or two!
New-for-2019 Camping Zone: See tents of all types, shapes and sizes, all pitched under one roof with experts on hand to offer advice. The camping offering has grown by an enormous 37% since last year and this year's display will include family tents, adventure tents, high tech tents, tunnel tents, tipi tents, bell tents, trekking tents, expedition tents and dome tents!
Holiday Park Experience: The show brings to life a flavour of what a holiday park can offer the whole family.  With such a range of holiday parks on display you're sure to come away with lots of holiday inspiration.  For those looking to buy a caravan holiday home or lodge why not speak to the experts who will be able to answer any questions and give best advice.
Fun & FREE activities for kids: There's plenty of opportunity for kids to experience fun activities such as climbing and bouldering, skating and a toboggan slide.
In addition to all the above there will also be guest speakers, live cookery demonstrations and the chance to win some huge prizes!
If you are new to the world of camping and caravanning and have questions, there will be daily drop-in advice clinics at the 'Freedom to Go' theatre, running from 13:15-14:15 every day and also 10:00-11:00 on Wednesday though to Sunday.
To find out more about what's on at The Caravan, Camping and Motorhome Show please visit: https://www.ccmshow.co.uk/